Super Bowl Matchups & Predictions
predictions are coming soon...
The Tight End Bowl
It's not often that tight ends find themselves in the spotlight, but a Chiefs-49ers Super Bowl would do just that. Kansas City's Travis Kelce was the Chiefs' leading receiver with 97 receptions for 1,229 yards and five touchdowns. Kelce's receiving yards total was the fourth-best in the NFL.
For San Francisco, George Kittle caught 85 passes for 1,053 yards and five touchdowns and missed two games with injuries. Kittle and Kelce are two of the best – if not the best – at their position and quarterbacks Patrick Mahomes and Jimmy Garoppolo would each be looking to their respective tight ends a bunch in a Super Bowl matchup.
The difference, of course, in a Chiefs-49ers Super Bowl is defense. While Kansas City improved dramatically throughout the season, they are not the 49ers. San Francisco has the NFL's best pass defense. It would be an epic battle as Kansas City had the league's fifth-best passing offense.
While 21-year veteran head coach Andy Reid would be drawing up some magic for the Chiefs, third-year head coach Kyle Shanahan would be doing the same for San Francisco. It would be a great matchup of offensive minds, but in the end defense wins championships and San Francisco's is better… SAN FRANCISCO 28, KANSAS CITY 27
Odds Comparison
Check out the Super Bowl Prop Bets for the upcoming super bowl 54 game.
Super Bowl LIV (54) Square Grid 100 Boxes
printable, easy to edit, free to share
Bonus Code:
50% up to $1,000
Code: BOL1000
Claim your 50% on your first deposit
Then There Were Four – Possible Super Bowl Matchups
New England's relatively easy victory over Tennessee earned them a seventh straight trip to the AFC title game. The wild finishes in Philadelphia, Pittsburgh, and Minnesota set the rest of the field for this weekend's conference title games. Only four remain leaving four potential Super Bowl matchups. Here's a look how each might play out.
New England vs. Philadelphia
A Patriots-Eagles Super Bowl matchup would likely be similar to a Patriots-Vikings tilt. The Eagles have been very good on defense all season, especially against the run where they finished first in the NFL during the regular season. New England has had plenty of recent success running the ball with Dion Lewis rushing for 60-plus yards in each of his last four games. Lewis has 896 for the season.
Belichick and Patricia would scheme a way to make things very difficult for Philadelphia QB Nick Foles. Foles is 3-1 since taking over as the starter for the Eagles after the injury to Carson Wentz. The Philadelphia offense has been far from the Eagles offense of midseason. Last week in a win over Atlanta, Philadelphia struggled its way to 15 points on a one-yard run by LeGarrette Blount and three Jake Elliott field goals.
While the Eagles run defense is the league's best, the pass defense is a little more suspect. Playing against possibly the best quarterback in the history of the game, that pass defense would have to play almost perfectly in order for Philadelphia to have a shot at beating the Patriots. Either that or the Eagles would have to force a few New England turnovers and steal a possession or two.
The second in line for most popular betting tradition in offices today in the U.S. is Super Bowl Squares. Winning with Super Bowl Squares is entirely luck so anyone has a chance of winning. This is probably why it's so popular.

Super Bowl 55 Odds and Spreads
below odds are provided by Bovada Sports
BetDSI offers daily squares $2-$100 per square pools.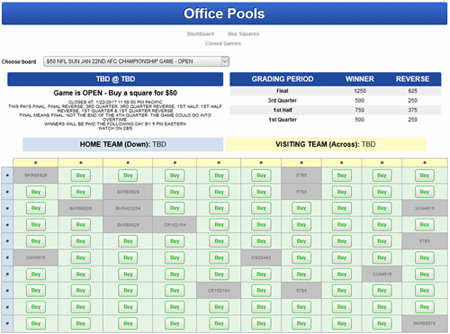 Squares you can choose from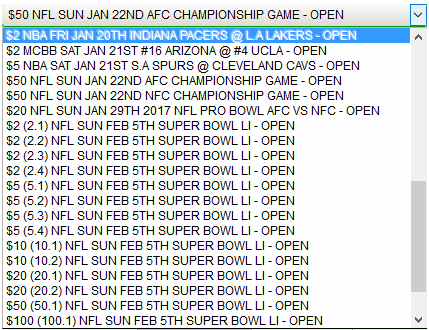 The 2018 NFL Playoffs are already here, and so starts the talks of Super Bowl favorites, betting odds, free picks and of course the prop bets. NFL Football remains America's favorite game because it's always full of surprises. It seems like every year a team that looks like a Pro Bowl Squad on paper winds up falling flat on their face.

2020 NFL Football Playoffs